BC-RICH E-Guitars
BC-RICH-guitars had been produced since the 70s in U.S.A, later in Japan, Korea and China.

E-Guitar BC-Rich Mockingbird Archtop
2 Rockfield Mafia Humbucker, Mahagoni-Korpus, Antique Violin Satin Decke, 4-teiliger durchgehender Mahagoni-Hals 43x22mmm (Bd0), Ebenholz-Griffbrett, 24Bd., Groover Super-Rotomatic-Mechaniken, gold HW, 2xVol, 1xTone, Bj. 2012.
Preis: 470.- Euro
buy now
info
Grußkarte mit dieser Gitarre senden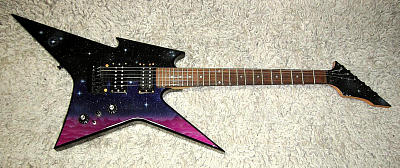 E-Guitar B.C.-Rich Ironbird
Made in Korea, 2TA, Floyd-Rose-Style-Tremolo, Custom-Airbrush-, Koffer.
not available

E-Guitar BC-Rich Mockingbird NJ Classic
2 Humbucker, mahagoni body, clouds maple,
5-layer neck-through construction, maple/walnut, 43.5x21mmm (Bd0), ebony fretboard, 24fr,
Kluson mechanics, yoc. 2008

not available