BC-RICH E-Guitars
BC-Rich is a brand of electric guitars established in the late 1960's. BC-Rich guitars are known for their eye-catching design and their high performance characteristics. Many BC-Rich guitars have unusual body shapes and are often decorated with skull and tribal motifs. The guitars will often Favored by heavy metal and hard rock guitarists for their sharp, aggressive tone and fast playability. BC-Rich guitars are played by many well-known musicians such as Kerry King (Slayer), Lita Ford, Slash (Guns N' Roses) and Mick Mars (Mötley Crüe).
BC-RICH-guitars had been produced since the 70s in U.S.A, later in Japan, Korea and China.


E-Guitar BC-Rich Mockingbird Archtop
2 Rockfield Mafia Humbucker, Mahagoni-Korpus, Antique Violin Satin Decke, 4-teiliger durchgehender Mahagoni-Hals 43x22mmm (Bd0), Ebenholz-Griffbrett, 24Bd., Groover Super-Rotomatic-Mechaniken, gold HW, 2xVol, 1xTone, Bj. 2012.
search on Ebay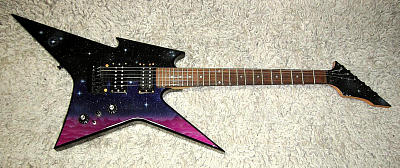 E-Guitar B.C.-Rich Ironbird
Made in Korea, 2TA, Floyd-Rose-Style-Tremolo, Custom-Airbrush-, Koffer.
search on Ebay

E-Guitar BC-Rich Mockingbird NJ Classic
2 Humbucker, mahagoni body, clouds maple,
5-layer neck-through construction, maple/walnut, 43.5x21mmm (Bd0), ebony fretboard, 24fr,
Kluson mechanics, yoc. 2008

search on Ebay