CORT E-Guitars
CORT is a Korean musical instrument brand that offers a wide range of electric guitars, known for their high-quality components and their affordable value for money are known. Cort guitars are known for their excellent workmanship and their versatility. many models have modern features such as coil split systems, allowing for a wide range of tonal possibilities. Cort also offers signature models for many famous guitarists such as Jeff Berlin and Frank Gambale. Cort guitars are used by many musicians around the world valued and have a growing fan base among guitarists of all skill levels.
CORT-guitars & basses are produced since the 70s in Korea and Indonesia.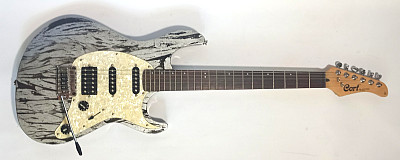 E-Guitar CORT G290 AVB
E-Gitarre CORT G290, Made in Korea, 3 Seymour Duncan TA (HSS), Vogelaugen-Ahorn/Rosewood-Neck, Sperzel-Mechaniken, Wilkenson-Tremolo, Scale 25,5\", 22 Bd.
Preis: 490.- Euro
search on Ebay
buy now
info