LesPaul-Style E-Guitars used
The Gibson Les Paul electric guitar was developed by Gibson designer Ted McCarty and guitarist Les Paul in the early 1950s. She has a massive body made of mahogany and maple and a set-in neck that offers long sustain and a full, warm sound. The guitar has in the typically two humbucking pickups that produce a powerful, fat tone that's perfect for rock and blues. The Les Paul also has a characteristic shape and an elegant design that many describe as timeless and elegant. It has played an important role in music history and was played by many famous guitarists like Jimmy Page, Slash, Gary Moore and Pete Townshend.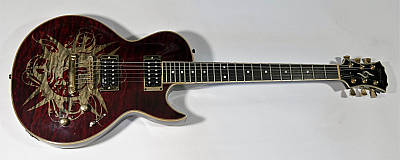 E-Guitar SPEAR LP Monkey
LesPaul-Style, 2PU (EMG), 5-way switch, 22 Jumbo-Frets, Mahagoni-Body, quilted maple Top, Mahagoni / Ebony Neck, 43mm (ft 0), Locking Tuners, Made in Vietnam, 2013.
Preis: 440.- Euro
search on Ebay
buy now
info

E-Guitar FERNANDES Ravelle Shin Demon Ltd
Limited Edition, Made in Korea, Bj. 2011, Demon-Shin Artwork, Mahagoni-body, 2-Humbucker, 2xVol./1xTone-Control, 22 Frets, Scale 24.75, set Mahagoni-/Eboni-Neck, Gotoh-Locking-Tuners, Graphtech-Sattel, orig. FERNANDES Gigbag.
Preis: 690.- Euro
search on Ebay
buy now
info